The most important section of your resume is Work Experience. This is where you have to show that you are capable of assuming the position for which you are applying, either because you held a similar position in the past, or because you have worked in positions that have allowed you to develop the necessary skills to take that job.
When writing the work experience, we always think of describing, in broad strokes, the functions that we carry out in the position, and that is good. But, the most important part of the work experience is the achievements.
At this point it is important that we can recognize the difference between them: Description VS. Achievements.
The work experience description has the functions and responsibilities associated with the position, regardless of who holds it. It is the list of tasks that anyone who takes that job must complete. It is important to note that, if you are talking about your current job, the verbs must be written in the infinitive (Organize, Plan, Coordinate). But, if it is a previous job, the verbs must be written in the past tense (Organized, Planned, Coordinated).
The achievements are those goals that YOU achieved while working in that position. They are your way of demonstrating -with solid, quantifiable and verifiable facts- how well you performed the job. As they are goals already achieved, verbs are ALWAYS written in the past tense, even if it is your current job, because you will state what you have already achieved while in that position.
For example, a person who is currently working as an Administrative Assistant, can write the work experience description as "File, plan and coordinate the general activities of the department. Scan physical documents to have digital backup. Receive, file and review documents related to department expenses, and write the monthly expense report."
So far everything is clear. Now, it is necessary to express what this person has achieved since assuming this position, for that we use the achievements, in the form of a list:
In my first month on the job, I set up a digital calendar of activities where all staff members in the department saved their planning, which reduced the time of planning meetings from 2 hours to 45 minutes.
Installed and configured an open source online digital document management system, reducing the searching time for a specific scanned file from approximately 15 to 2 minutes.
You see the difference? Which do you think has more weight? Without a doubt, the achievements. But that doesn't mean the description isn't important. On the contrary, both parts of your experience complement each other and, together, they reflect what you are capable of doing and achieving.
At ATS hacker we have developed an easy-to-use wizard, loaded with dozens of examples, so you can quickly and easily write your achievements. It is available for Pro plan users.
First, you select the Category, then the Capability you wish to demonstrate within that Category, and finally the Action. The system will show you a suggested example, you must edit it with REAL data that corresponds to your achievement.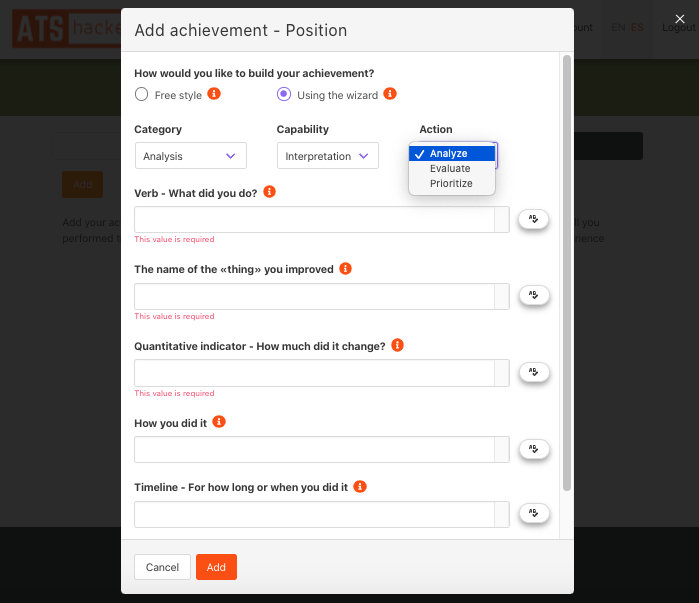 If you are a Free plan user, you can also add your achievements using the Free Style, without the selection feature or the preloaded examples.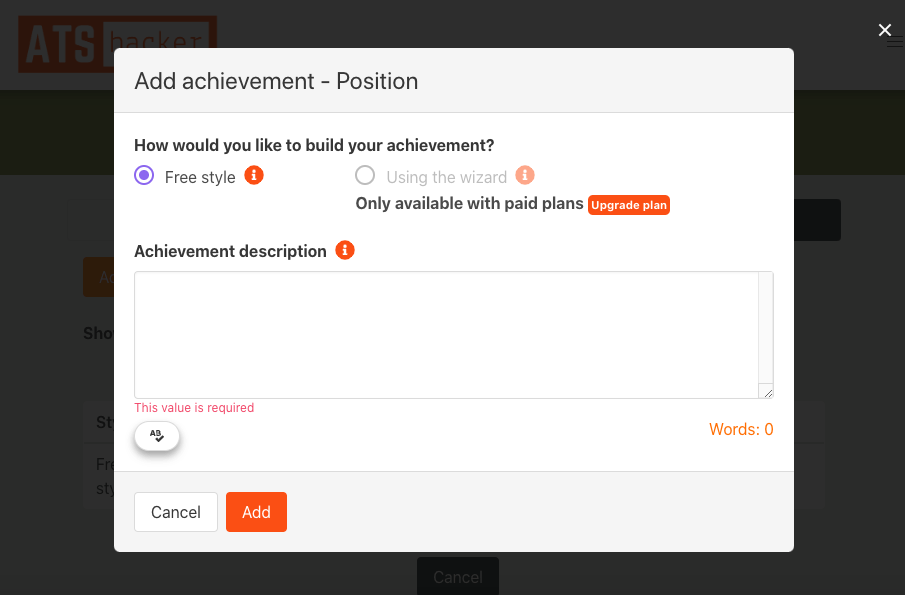 Add all the achievements of each work experience, however insignificant or small they may seem, it is important that you state them all. When creating the resume, our system allows you to choose which achievements you want to add in that specific resume in order of relevance. In that way, your work experience will be optimized for the position you wish to apply for.
Are you ready to start optimizing your resume?
Register to our 7 days free trial or subscribe to our Pro plan and get a little closer to your dream job.